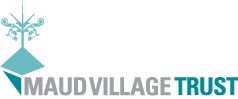 2007 ANNUAL REPORT
This year has seen the most significant changes to the old mart site. The community Service Centre is now complete and we have two tenants, namely Buchan IT and E-Learning Services (Bites) and Buchan Dial-a-Community Bus (BDACB) who have taken up residence. We now need to fill the remaining units and set up the restaurant which we aim to have up and running early next year. During his employment the Trust Project Manager Brian Stewart-Coxon set up a Photographic Studio as a Social Enterprise and it is anticipated that this will bring in funds to the Trust.
The gardens have now been completed, paths asphalted and beds laid out and it has to be said it looks very good and an attractive feature to the village.
Cornerstone have almost completed their accommodation building, which complements the site and we look forward to it's completion.
It was hoped that the proposed NHS Resource Centre would be well on the way by this time, however due to soil contamination the planning process has been held up. A remedial action plan has been devised and it is hoped that it will be accepted. It is now anticipated that building will commence in January 2008 and will be available for occupancy by March 2009. The centre was named by the local Primary School and will be called The Old Mart Community Resource Centre. One of the features of the centre will be a gymnasium which will be open for use by the community.
It was decided earlier in the year to pull down the old ring building, unfortunately the person who was going to dismantle it has not done so. If the demolition had not been start by the end of September it was decided to have it taken down and sell off what is marketable and disposing off the rest.
Unfortunately the site still looks a little untidy, what with the pile of rubble, building work and the undeveloped areas. Once Cornerstone have completed their building, the Resource Centre has been erected and the ring building demolished we will start to see the development taking shape. That will leave the area from Deer Road down to Market street and to this end a development plan and a feasibility study needs to be carried out and a new business plan prepared. An application to the Big Lottery was successful and £9,600 was granted in August for this project, which will be carried out in the coming months.
Again it has been a very busy year but at least we can see some evidence of the work put in. The Trust Management Committee would like to thank those who have helped and supported the development to date, special thanks to Freddie Simpson, along with Norman Lovie, Andy Davidson and Neil Dixon for their involvement in erecting such a lovely building.